LULAC Remembers Benny Martinez For His Life Devoted To Justice
Washington, DC – Today, Sindy Benavides, National Chief Executive Officer of the League of United Latin American Citizens (LULAC), issued the following statement in honor of Benny Martinez, a respected and highly-esteemed LULAC social justice leader for more than six decades. Mr. Martinez passed away Sunday, December 31, 2019, in the Rio Grande Valley, his beloved home in Texas.
"Benny Martinez was a Korean combat veteran and along with his brothers became very active in LULAC in the 1950s. He was involved in helping establish the Little School of 400, a program in Texas to teach Spanish-speaking children 400 English words before they entered kindergarten. President Lyndon B. Johnson used this model to create Head Start. Benny also led a major boycott against Rainbow Bread, a large institutional bakery company when it refused to hire Hispanics, referring to them as 'his kind.'
Yet, the event for which Mr. Martinez may be most remembered is when he helped arrange the first visit of a U.S. President to an official gathering of LULAC. This took place on November 21, 1963, when President John F. Kennedy and First Lady Jacqueline Kennedy joined LULAC at the Rice Hotel in Houston, Texas. Vice-President Lyndon B. Johnson and his wife, Lady Bird Johnson were also present. Tragically, this was to be the last event President Kennedy celebrated. He was assassinated the following day in Dallas, Texas.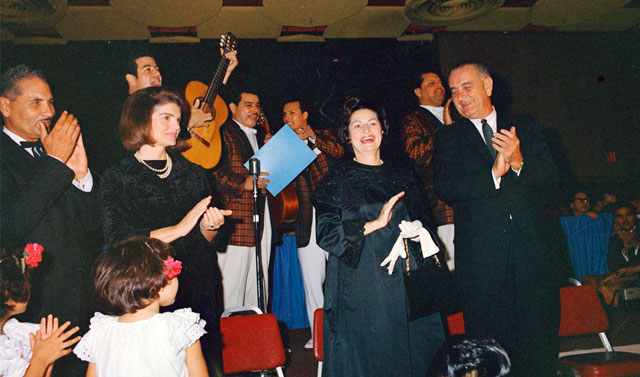 Another one of Mr. Martinez's most memorable moments was when he rode on his horse one morning in 2004 and headed out on a journey riding alone away from his home in East Texas to see the Governor of Texas in Austin, 130 miles away. He was determined to help raise awareness about the endless contributions of Hispanics to the Lone Star State. Benny thought the best place for a tribute honoring Hispanics was the Capitol grounds, Texas' seat of power, and he was willing to put his life on the line to make it happen. He was 70-years old at the time, but as with most battles Benny undertook, he succeeded.
Today, Benny Martinez's vision became a reality in the form of one of the largest monuments on the grounds of the Texas State Capitol: Tejano Monument. The $2-million landmark was dedicated in 2012, a sprawling 20-foot testament in granite and features ten statues and five bronze-relief plaques. Yet to Benny, this was an honor long overdue and well-deserved by the state's earliest Mexican-American citizens.
Benny never stopped working on behalf of his community and LULAC. He was well-positioned and successfully carried out the duties as President of LULAC Council 60, District Director, Texas State Director, as well as Parliamentarian.
He consistently championed education and was tirelessly devoted to raising money for scholarships. His friends describe him as a down to earth guy who was willing to raise money for young people any way he could, which included making hamburgers. Education made a difference in his life and he was an advocate for access to quality public education for all children, including Hispanics.
LULAC will continue its work as Mr. Martinez did, with deliberate purpose and determination to prevail. As he rose on his horse that morning long ago for a cause to which he was deeply committed, may his life and legacy inspire each and all of us to rise too, in communities small or large, until the promise of America is realized for every man, woman and child, including los nuestros."
Mr. Martinez's loving family and friends will pay homage to his legacy at his burial this Saturday in Houston, Texas.
About LULAC
The League of United Latin American Citizens (LULAC) is the nation's largest and oldest civil rights volunteer-based organization that empowers Hispanic Americans and builds strong Latino communities. Headquartered in Washington, DC, with 1,000 councils around the United States and Puerto Rico, LULAC's programs, services and advocacy address the most important issues for Latinos, meeting critical needs of today and the future. For more information, visit https://lulac.org/